Click here to check out what the other authors are giving away during the Entangled In Love blog hop!
This is quite the hoopla so go check out the other blogs–and GET ALL THE THINGS!  WOOOOOOOOOOOOO!
For my blog, I'm giving away a Personalized Snowflake Mug from Personalization Mall!  Score!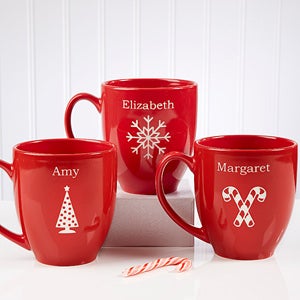 You can put whatever name you want on there! Yours, your BFFs, Jack's name, Frosted, Booger, Your boss's (suck-up), etc. Limitless limited options. (Let's not get nuts…I'm sure they only allow a certain number of letters.)  I'm limiting this to the contiguous United States because their international shipping rates scare the crap out of me…AND I'm terrified I wouldn't pack this well enough and the snowflake mug would be shattered to pieces the size of snowflakes.
The snowflake necklace I'm giving away in the Get Frosted Blog Hop IS international, though, so knock yourself out there.
Here is the Rafflecopter giveaway for the mug pictured above:
And tell me below what you like about winter.  ; )
(My favorite part of winter is what prompted me to give away a mug–hot cocoa. Mmmm.)